Charms of Bike Tours in South Hokkaido
Touring by bike around South Hokkaido abounds in historical and cultural attractions.
Touring by bike in the open space of Hokkaido is quite refreshing.
Bike tours in South Hokkaido features becautiful sceneries, history and local cultures. Cycle tourism is popular internationally. Try bike tours in South Hokkaido that has good access from anywhere. Here nice bike tour courses information is available. Those tours going through excellent views ensure you relaxing and extraordinary experiences. Nice bike tours courses information is available on this site.
From biginners to experienced bikers could enjoyi bike tours in south Hokkaido.
South Hokkaido is accessible from anywhere in Japan or overseas.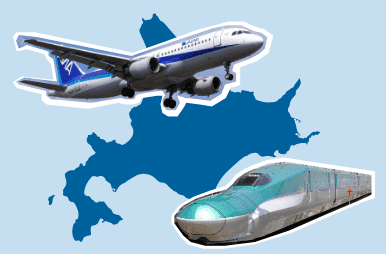 Shinkansen (railway): New Hakodate Hokuto Station Air: Hakodate Airport
The sea coasts and mountaineous areas in south Hokkaido are both attractive.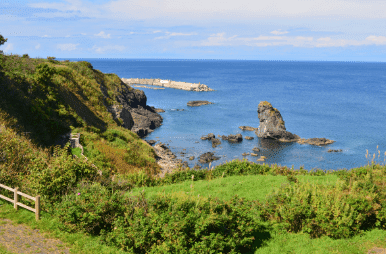 The tour courses are boasting the vast nature that abounds in grenery and refreshing sea coasts. You will meet breathtakingly beautiful sceneries.
South Hokkaido has rich histrical and cultural resources.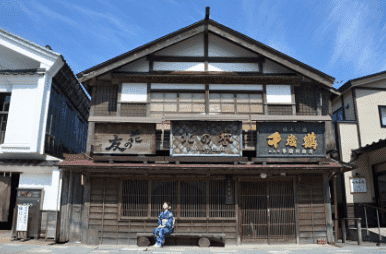 Biking enables you to easily stop by tourism highlights or historical spots in Hakodate, Esashi and Matsumae.
South Hokkaido is attractive for groumands.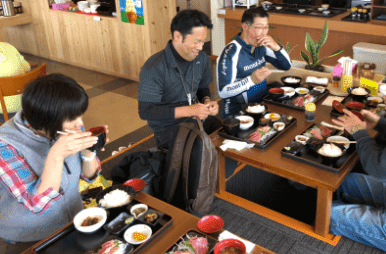 Bikers can enjoy both great local sea foods and farming products, freely stopping at any of favorite restaurants.
There are a number of service stations and resting areas.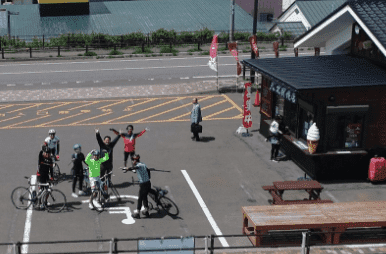 On the way to drive, Michi-no-Ekis (roadside station), hotspring resorts and resting areas are located at certain intervals, which makes your drive convenient and conforable.
The cycling trip support facilities in South Hokkaido are well equipped.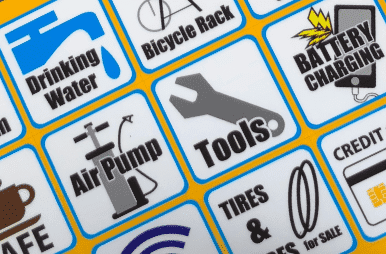 Sign borads, bike racks and inflators are prepared for cycliests at Michi-no-Eki or other facilities.
More information!


Cycle ports and cycle rests.
We are supporting cyclists.
At all cycle ports and cycle rests that are dotted along the route, inflators and maintenance tools are rented and tubes are sold. Cycle racks are also available there.

As of January 2019
Locations of cycler support facilities.
Michi-no-eki(roadside rest area) Misogi-no-sato Kikonai
Michi-no-eki(roadside rest area) Shiriuchi
Michi-no-eki(roadside rest area) Yokozuna-no-sato Fukushima
Michi-no-eki(roadside rest area) Kitamaebune Matsumae
Michi-no-eki(roadside rest area) Kaminokuni Monju
Esashi-umi-no-eki
Kaiyoumaru
Michi-no-eki(roadside rest area) Assabu
Michi-no-eki(roadside rest area) Route229 Gennadai
Okushiri Island Ferry Terminal
Fukushima Town, Seikan Tunnel Museum
Restroom
Drinking
Water
BicycleRack
Rest Space
Information
Café
Air Pump
Maintenance
Tool
Battery
charger
Shipping
Road sevice
Wi-Fi
Tube
Credit Card
●
●
●
●
●
●
●
●
●
-
-
●
●
●
●
-
●
●
-
-
●
●
-
-
-
●
●
-
●
-
●
●
-
-
●
●
-
-
-
-
●
-
●
●
●
●
-
●
●
●
-
-
-
●
●
-
●
-
●
●
-
●
●
●
-
-
-
●
●
-
●
●
●
●
●
●
●
●
●
-
●
●
●
-
●
●
●
●
-
●
●
●
●
-
-
●
●
●
●
-
●
●
-
-
●
●
-
-
-
-
●
-
●
●
●
●
●
●
●
●
●
-
-
●
●
-
●
-
●
●
-
-
-
-
-
-
-
-
-
-
Scenery, Groumet, History
Enjoy cycling in fantastic South Hokkaido
Enjoy cycling easily in South Hokkaido that offers great service to cyclists.
Start cycling from wherever you like, making use of public transportation.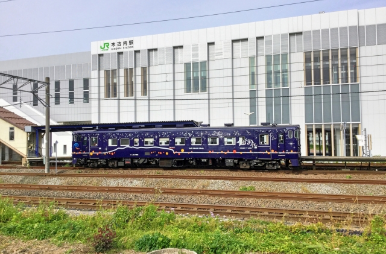 Use of public transportation enables you to make a day cycle trip , custamizing the course to fit your schedule.
You could chose an option: use public transportation for one way and enjoy cycling for another way.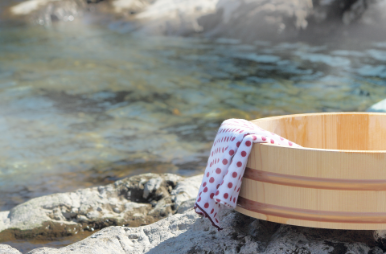 An idea is that enjoying cycling comforably and hotspring bathing after that and using public transportation to come back.
Enjoy local food barbecue in the nature.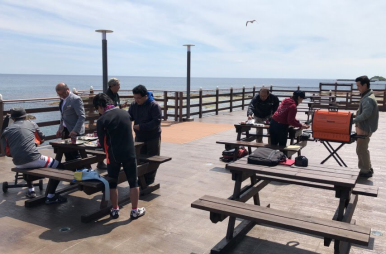 On the way of cycling, you can enjoy barbecue in the nature, cooking fresh seafood and farming products of South Hokkaido.
More information!
Access to Kikonai Railway Station whose location is good as a cycling start point.


Cooperative transport companies
※ A bicycle needs to be put in a cycle bag to caryy by public transportation.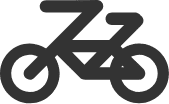 You can travel even by granny's bike.
What you can learn from cycling.
Cycling can offer you absolutely unique experiene.
Cycling is environmentally friendly and make you feel things closer compared with travely by mortor vehicle.
In a cycle trip, you will see sceneries or people that might have gone past in a travel by motor vehicle. Meals after cycling using your own physical strengh are specially delicious.
You will feel the great sense of accomplishment when you reach the destination.
A cycle trip is full of gorgeous experiences.
A cycle trip is full of gorgeous experiences.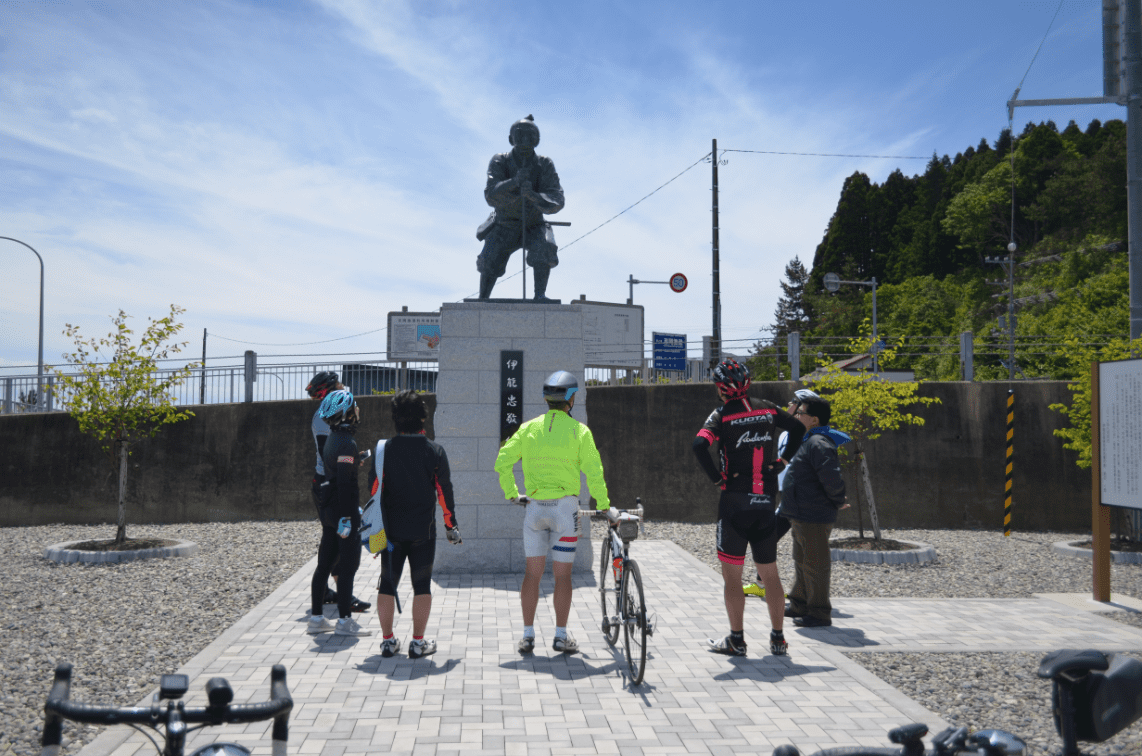 Try cycling in South Hokkaido ! Through experiences that exsit nowhere else, It will make your trip special.
A granny's bike could easily realize as a nice trip as that by road bike.
South Hokkaido that is cooler than Honshu even in summer is an ideal place for cycling.